General Shapes Optimized Nesting

OptiNest is a general shapes nesting software, based on a powerful algorithm using the BOOLE & PARTNERS CalepiLib functions library. OptiNest's main standard parameters are calculation depth, smoothing factor, pieces grouping, and propagation mode.
OptiNest imports pieces outlines, toolings and inner openings (bored pieces) in DXF format. Outlines and toolings are described either by closed polylines, or by a succession of open polylines, arcs, and lines.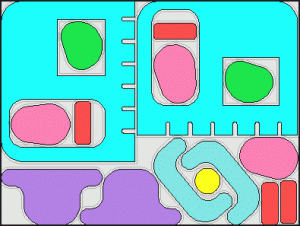 OptiNest offers a quick entry of rectangular, circular, and polygonal shapes.
–  OptiNest takes into account the cutting tool thickness, the panel trim cuts, and each piece's color, quantity, rotation and reversal capabilities.
–  After each optimization, OptiNest exports the nesting map in DXF format, maintaining pieces and toolings full DXF description.
---
OptiNest main features
OptiNest's Algorithm:
OptiNest is based on a powerful multi-parameter algorithm. The "Optimization Parameters" window's main items are cutting tool thickness, calculation depth, and pieces smoothing factor. The higher the precision, the longer the optimization duration.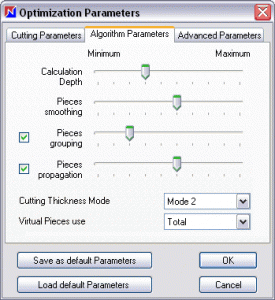 Pieces grouping:
The OptiNest «Pieces Grouping» option creates virtual pieces composed of pieces pairs, which will be used as single pieces during the optimization.
Propagation mode:
Propagation is a placing method which applies to a single piece produced in large quantities, and which minimizes the off-cuts rate between pieces. The general rule consists in grouping the piece with itself, then in propagating the group along two axis. The greater the panel size, the higher the propagation performances.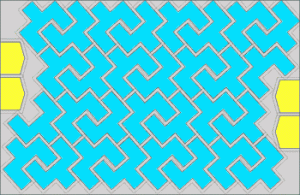 Pieces direct entry:
As a complement to the various DXF import modes, OptiNest allows also pieces and panels outlines direct entry. In the present version, this entry is limited to rectangulars, circular, and polygonal shapes.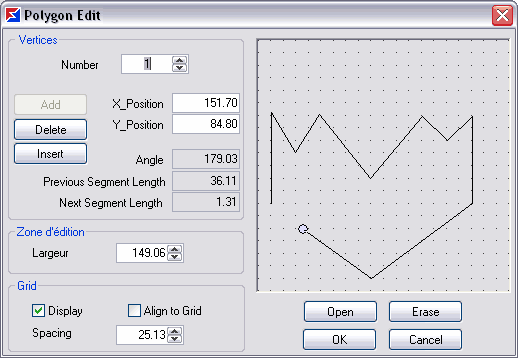 Rotations and reversals:
Rotation and reversal are the piece mobility parameters, and define its authorized moves. OptiNest controls 4 rotation levels, and pieces face change.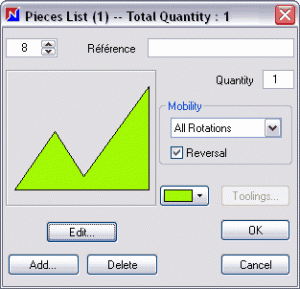 Bored pieces:
OptiNest handles bored pieces, which holes are treated as a specific tooling type.
OptiNest recovers the material freed by pieces holes, and reuses it for placing smaller pieces.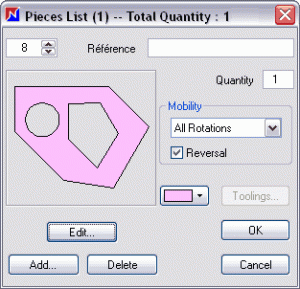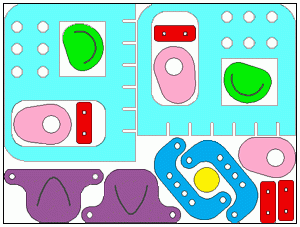 Nesting maps DXF export:
OptiNest's nesting maps may be exported in DXF format, then transferred either to a CAD software, or to a CNC tooling machine.
---
Versions
OptiNest is available in several versions, offering increasing performances:
– ON-LT: Light Version, limited to 10 vertex polygonal shapes.
– ON-Std: Standard Version, compatible with all polyline shapes.
– ON-Usi: Toolings Version, compatible with bored and tooled pieces.
Downloads

OptiNest User's Manual

OptiNest demo version
---